Course Description
The Big Sipper is a great way to dip your toe (or half your leg) into The Guzzler course. Runners will bused up to Mt Nebo ready for a downhill start directly onto the roller coaster trails that head down towards Enoggera Reservoir. After a run past this beautiful body of water, you'll turn your feet towards Mt Coot-tha where our finish line awaits.
Starting on Sunday morning, our Big Sippers will also get to run the second part of the course with some of our final 100km so give them a huge cheer and massive kudos as you do. And for the slightly mad among you, a Sunday start time means there's the very real possibility of tackling both the 50km and 21km on the same weekend (just sayin'…)!
The Big Sipper: it will be fun but it ain't no fun run!
For this gem of a race, you'll catch a Big Sipper bus from the Mt Coot-tha up to the start line.
The action all begins from the top of Centre Road at Mt Nebo, where you'll find the start chute that will shoot you down "The Big Dipper" – a super fun and fast down* hill run towards Enoggera Reservoir. Run past the beach (no time for a swim) to the checkpoint for high fives, cheers and all the essentials that will keep you going for the next 15km. Round the reservoir and into Mt Coot-tha where you'll be approaching Kokoda Track, a little climb that gets BIG feedback. Conquered this? Well done! Now you'll jump onto some single track for the final flowing downhill run straight over the line and into our finishers lounge. 
Nailed it!
*Fair warning… it's down, and then up, and then down, and then.. well, you get the idea!
---
Course Description
Bright and funky technical training tee

Vibrant start & finish event precinct

Challenging courses, exploring Brisbane's beautiful reservoirs

Epic finisher medal and optional finishers' prize*

Comprehensive, environmentally-friendly, course marking

Professional event timing with live feed for spectators and crew

Amazing volunteer support at each fully stocked checkpoint

Emergency medical support on-course

Bus transfer to start line

Comprehensive participant guide


*Finisher's Prize can be added on after entry
---
Stats
Distance

21
km
Elevation

740
M+
/890
M-
Runners

200
Duration

1:40-4
hrs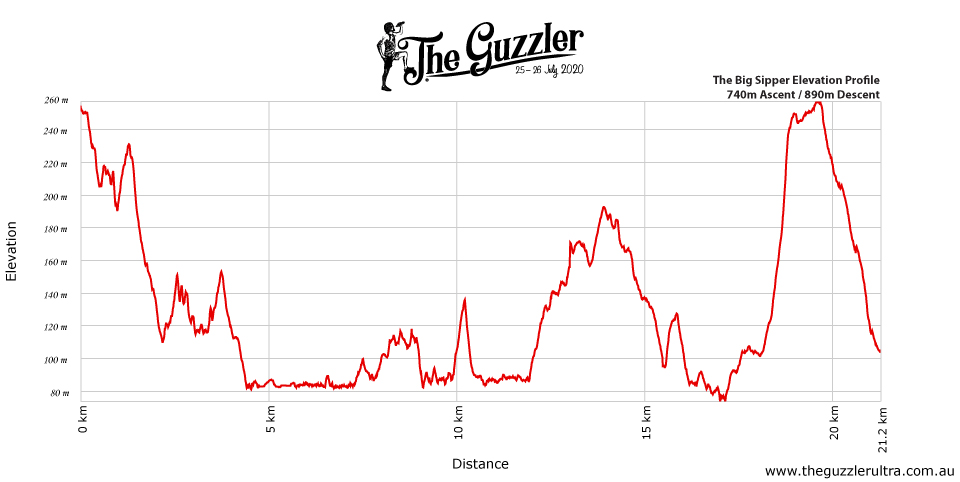 ---
Course Timing
The Big Sipper starts at 6:30am Sunday Sunday 24th July 2022.
You'll have up to 4hrs to complete the course.
---
Checkpoints
Location
Distance
Cut-Off
Food*
Crew & Spectators
Start
Not Permitted
Walkabout Creek
5km
NA
Fruit, chips, lollies, Coke
Spectators Only
Gap Creek Rd Crossing
16km
Water tap only
Finish
10:30as
Fruit, chips, lollies, Coke,
bakery goods.
Crew & Spectators
*Due to our COVID-safe event plan, we'll be limited as to what types of food we can make available at checkpoints and may need to make changes at short notice.
There is one intermediate checkpoint for The Big Sipper at 5.1km, after 315m of descent, just before you cruise around Enoggera reservoir. This checkpoint will be fully stocked with food, big cheers and high fives, toilets and first aid. 
Toilets will be available at the Start/finish and Enoggera Reservoir checkpoint. 
---
Mandatory Gear
---
GPS Track Data & Maps
Our interactive courses are best viewed in full screen. Click the following links to open the course in a new window. 
While training, and as an emergency backup on race day, we recommend you download and use the free maps.me mobile application. This will allow you to see, in real time, your location in relation to the course you're following.
To follow the 21km course, after installing maps.me on your mobile phone please download this .kml file and select "open with" Maps.me application. 
If using a different application or gps watch you may also need to download the 21km .gpx file instead.
>
We're also registered as a UTMB World Series Qualifier for 2022
---